FANUC Servo Drive 6096 6097 SVM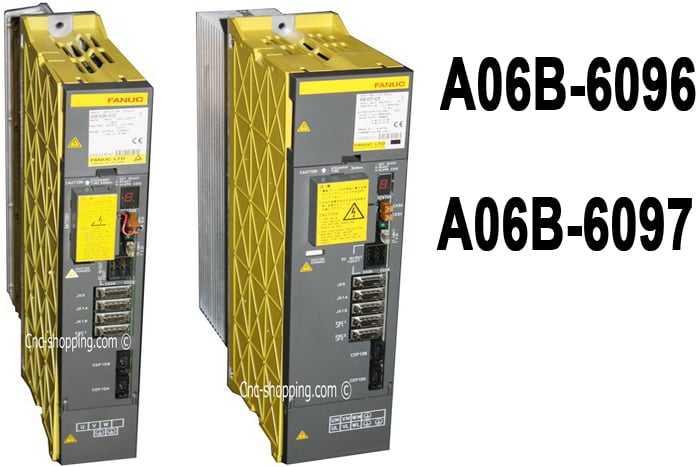 We offer online full services and Surplus for Fanuc Alpha Servo amplifiers modules such as Fanuc A06B-6096 and A06B-6097 HV Series with FSSB Optical fiber interface available for CNC Machine-Tools.
Fanuc A06B-6096 Alarm ? Servo alarm ? IPM Alarm 8., 9., A., Alarm b., C., d., E ? (LED Display indicator)
Find FANUC A06B-6096 Servo drive Replacement available. These FANUC Alpha Servo drive modules controlled by Fanuc i Series. New, Refurbished, Repair or Exchange service is available for any FANUC A06B-6096 amplifiers.
At CNC-Shopping facilities we carry Fanuc test rigs with CNC Fanuc i series to test all the Fanuc Alpha SVM modules (FANUC 6096 series) by skilled technicians according to manufacturers' instructions and with a full warranty. We also provide an unrivalled technical service for the whole range of Fanuc industrial automation equipment and get rid of your FANUC Servo amplifier module Alarms.
A06B-6085-H102 FANUC SVM 1-20 HV 400V Servo Amplifier Module

In Stock

Immediate shipment

Starting at €1,600.00 €1,600.00

A06B-6085-H103 FANUC SVM 1-40 HV 400V Servo Amplifier

In Stock

Immediate shipment

Starting at €2,250.00 €2,250.00

A06B-6096-H101 Fanuc Servo Amplifier Module SVM 1-12

In Stock

Immediate shipment

Starting at €960.00 €960.00

A06B-6096-H102 Servo Amplifier Module SVM 1-20

In Stock

Immediate shipment

Starting at €980.00 €980.00

A06B-6096-H103 Servo Amplifier Module SVM 1-40S

In Stock

Immediate shipment

Starting at €1,100.00 €1,100.00

A06B-6096-H104 Servo Amplifier Module SVM 1-40L

In Stock

Immediate shipment

Starting at €980.00 €980.00

A06B-6096-H105 Servo Amplifier Module SVM 1-80

In Stock

Immediate shipment

Starting at €900.00 €900.00

A06B-6096-H106 Servo Amplifier Module SVM 1-130

In Stock

Immediate shipment

Starting at €1,250.00 €1,250.00

A06B-6096-H106#H Servo Amplifier Module SVM 1-130 HRV3

In Stock

Immediate shipment

Starting at €1,400.00 €1,400.00

A06B-6096-H107 Servo Amplifier Module SVM 1-240

In Stock

Immediate shipment

Starting at €3,500.00 €3,500.00