FANUC Servo Drive 6066 6070 AC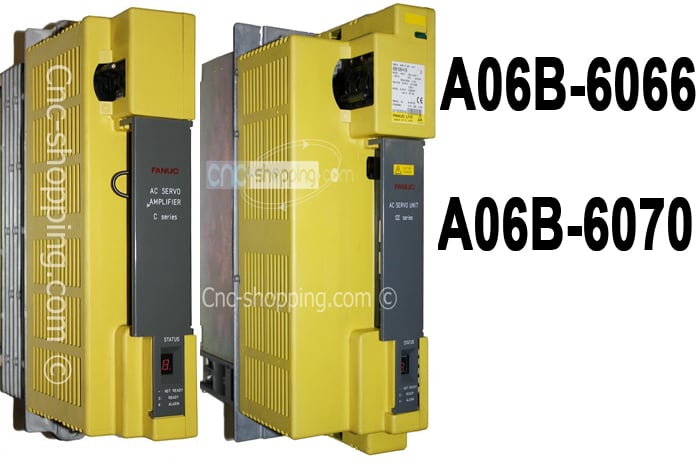 Online source of FANUC Digital Axis drive type FANUC Servo Amplifier Unit C-Series (A06B-6066 FANUC SVUC) and E-Series (A06B-6070). Fanuc simple axis drive or Fanuc dual axis drive. Browse all the references of the FANUC A06B-6066, 6070 and check availability, price and conditions of the parts that you would order online. These 2 series of Fanuc Servo drive (C Series and E-Series) are fitted on FANUC Control 0, 15, 16, 18.

| | |
| --- | --- |
| A06B-6066-H | Fanuc AC Servo Amplifier C-Series |
| A06B-6070-H | Fanuc AC Servo Amplifier E-Series |
Cnc-Shopping offers FANUC C-Series drives for
sale
including sale of B
rand New - Refurbished - Exchange
and
Spares
for Fanuc Drives. For repair of your
Fanuc Servo Amplifiers 6066/6070
, please use our Contact form. (But we advice customers to buy servo drives online and replace their drives for fatest replacement). For the FANUC AC axis drives that are not in stock, or drives that not required urgently, please contact us and we will try source your part. (All of the Fanuc servo drives units comes with a
warranty
).

Browse below our references from the FANUC FANUC AC Servo Units
:
A06B-6066-H002 Fanuc Servo Amplifier 4-0S 3-0S

In Stock

Available in 5 to 8 days

Starting at €1,200.00 €1,200.00

A06B-6066-H003 Fanuc C-Series drive

In Stock

Immediate shipment

Starting at €750.00 €750.00

A06B-6066-H004 Fanuc C-Series Servo drive SVUC1-40

In Stock

Immediate shipment

Starting at €800.00 €800.00

A06B-6066-H005 Fanuc AC Servo Amplifier Unit C Series SVUC-60

In Stock

Shipment within 3 days

Starting at €1,000.00 €1,000.00

A06B-6066-H006 FANUC SVUC 1-80

In Stock

Immediate shipment

Starting at €800.00 €800.00

A06B-6066-H008 Fanuc C-Series AC Servo unit 20/30S

In Stock

Immediate shipment

Starting at €850.00 €850.00

A06B-6066-H011

In Stock

Immediate shipment

Starting at €1,200.00 €1,200.00

A06B-6066-H012 Fanuc Servo Amplifier Module C Series 60A 5 Ohms

In Stock

Shipment within 3 days

Starting at €1,300.00 €1,300.00

A06B-6066-H013

Out of stock

Available in 5 to 8 days

Starting at €3,000.00 €3,000.00

A06B-6066-H211 Fanuc C Series Servo Amplifier

Out of stock

Out of stock

Starting at €1,600.00 €1,600.00