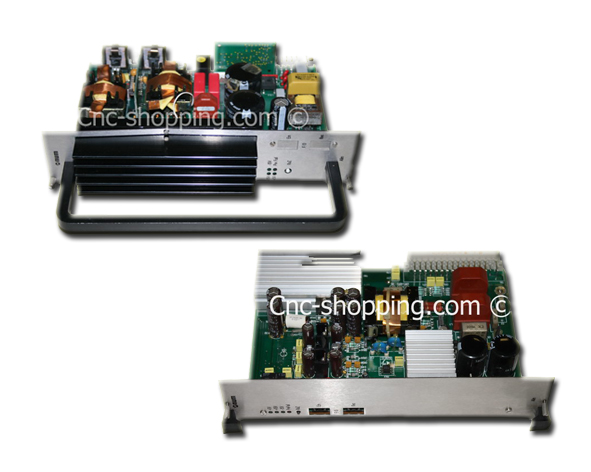 Cnc-shopping is offering NUM 1060 Power supply units as exchange standard or refurbished conditions depends on the stock availability. All of the NUM 1060 power supply pcb are tested before each shipping and comes with a warranty noticed on the product page. Browse below all of theNum 1060 Power supply boards and stock availability.
If you do not find the NUM 1060 Power supply unit that you are looking for, please do not hesitate to contact us and our technical dpt. will help you to find the power supply unit that you need.
Standard exchange on NUM 1060 (NUM 1xxx series such as 1062 and other versions) products are offered on our website : send us your Num 1060 defective part and we will replace your part as an exchange service. Only parts that can be repaired will be replaced. Please feel free to contact us. We also repair NUM 1060 Power supply and do preventive maintenance on them.
NUM 1040 1050 Power Supply board 0282204871 24VDC 50W

Out of stock

Out of stock

Starting at €750.00 €750.00

NUM 1060 Power Supply board 0204201950

In Stock

Shipment within 3 days

Starting at €790.00 €790.00

NUM 1060 Power supply board 0206202526 Extend Rack

In Stock

Shipment within 3 days

Starting at €650.00 €650.00

NUM 1060 Power supply board 0206202724

In Stock

Immediate shipment

Starting at €590.00 €590.00

NUM 1060 Power supply board 0206202725

In Stock

Immediate shipment

Starting at €590.00 €590.00

NUM 1060 Power supply board 0282205590 Optical fiber 60W

In Stock

Immediate shipment

Starting at €650.00 €650.00

NUM 1060 Power supply board 150W 0282204599

Out of stock

Immediate shipment

Starting at €900.00 €900.00

NUM 1060 Power supply board 282900003 NUM 1062

In Stock

Immediate shipment

Starting at €690.00 €690.00