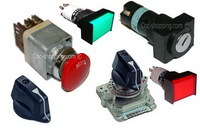 Are you looking for Fanuc Switch or any Fanuc controller button ?
Cnc-shopping is offering you
FANUC Buttons
replacement, Fanuc Switch, Fanuc Rotary switch and other Fanuc accessories installed on Fanuc CRT/MDI Operator panel for various controls such as Fanuc, 0, Fanuc 6,
Fanuc 11, 12, 15, 16, 18
and last Fanuc
i-series
generations. Browse FANUC Accessories that we have in stock below, and order them online.
DECA D16LAS1-1ab Switch 2 positions lamp ORANGE PUSH SQUARE

Out of stock

Out of stock

DECA D16LAT1-1ab Switch 2 positions lamp ORANGE PUSH Rectangular

In Stock

Immediate shipment

DECA D16LMS1-1ab Switch lamp ORANGE PUSH SQUARE

In Stock

Immediate shipment

DECA D16LMT1-1ab Switch with lamp GREEN PUSH

In Stock

Available in 5 to 8 days

Starting at €30.00 €30.00

DECA D16LMT1-1ab Switch with lamp ORANGE PUSH

In Stock

Immediate shipment

Starting at €16.00 €16.00

DECA D16LMT1-1ab Switch with lamp RED PUSH

In Stock

Immediate shipment

Starting at €30.00 €30.00

DECA D16LMT1-1ab Switch with lamp WHITE PUSH

In Stock

Immediate shipment

Starting at €25.00 €25.00

FANUC Edit Key Switch Fuji Electric AH161-J A55L-0001-0113/J2A11A-B

Out of stock

Immediate shipment

Starting at €60.00 €60.00

FANUC Emergency stop button Fuji AH30 A55L-0001-0069#2B

Out of stock

Confirmation of shipping time on request

Starting at €35.00 €35.00

Fuji Electric RCA470-V Emergency Pushbutton RED

In Stock

Immediate shipment

Starting at €20.00 €20.00