MITSUBISHI Servo drive MDS-B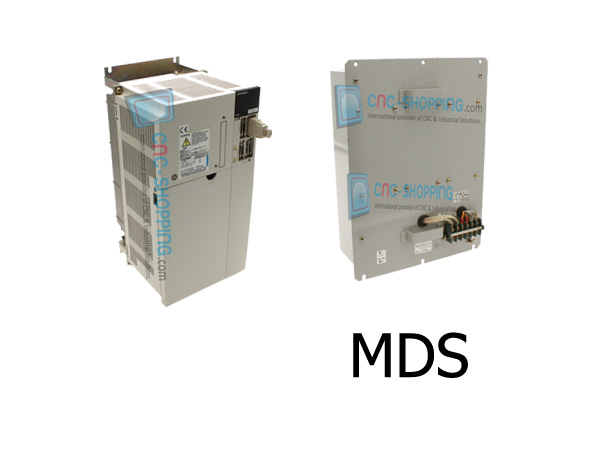 Buy online your MITSUBISHI MDS-B Modules such as MDS-B-V1 Servo drives or MDS-B-V2 dual axis Servo drives and MITSUBISHI MDS-B-SP Spindle drives (MDS-B-SPH SPAH SPM) or MITSUBISHI Electric power supply units such as MDS-B-CV for Machine-Tools. Find and Buy online the model required on your CNC Machine-Tools.
We do supply Brand new / Refurbished, Exchange Service or Repair for the entire MITSUBISHI MDS-B Range.
All of our MITSUBISHI MDS-B Modules are fully refurbished according to manufacturer's procedure with systematic preventive maintenance on components with limited lifetime (we carry all the MITSUBISHI manufacturer's components such as capacitors, power transistors, fans and also magnetic relay for any repair of the MITSUBISHI MDS-B modules. The MITSUBISHI MDS-B modules (servo drive, power supply, spindle drive) are fully tested on dynamic full load on a complete dedicated MITSUBISHI MELDAS Simulator test stand with CNC Control feedback fitted with MITSUBISHI AC servo motors (6-12hours endurance with advanced control of DC Bus Voltage) in order to ensure quality and optimal functioning of the MITSUBISHI MDS-B module.
Buy with confidence, all the MITSUBISHI MDS-B Servo drive units comes with a full warranty.
MITSUBISHI FCUA-MP10-06 Machine Controller E series

In Stock

Immediate shipment

Starting at €900.00 €900.00

MITSUBISHI MDS-B-CV-110 Power Supply Unit 41A

In Stock

Immediate shipment

Starting at €1,700.00 €1,700.00

MITSUBISHI MDS-B-CV-150 Power Supply Unit 76A

In Stock

Immediate shipment

Starting at €2,000.00 €2,000.00

MITSUBISHI MDS-B-CV-185 Power Supply Unit 18.5kW

In Stock

Immediate shipment

Starting at €2,100.00 €2,100.00

MITSUBISHI MDS-B-CV-220 Power Supply Unit 95A

In Stock

Immediate shipment

Starting at €2,200.00 €2,200.00

MITSUBISHI MDS-B-CV-260 Power Supply Unit 115A

In Stock

Immediate shipment

Starting at €2,300.00 €2,300.00

MITSUBISHI MDS-B-CV-300 Power Supply Unit

In Stock

Immediate shipment

Starting at €2,400.00 €2,400.00

MITSUBISHI MDS-B-CV-37 Power Supply Unit 3.7kW

In Stock

Immediate shipment

Starting at €1,500.00 €1,500.00

MITSUBISHI MDS-B-CV-370 Power Supply Unit 37kW

In Stock

Immediate shipment

Starting at €2,680.00 €2,680.00

MITSUBISHI MDS-B-CV-55 Power Supply Unit 5.5kW

In Stock

Shipment within 3 days

Starting at €1,520.00 €1,520.00