FANUC Servo Drive 6093 Beta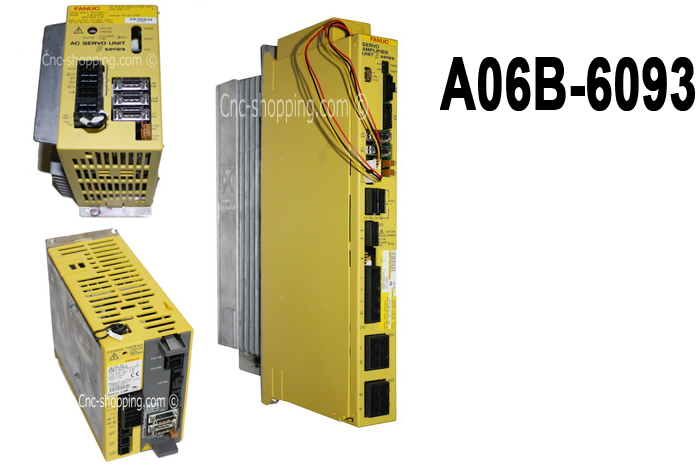 CNC-Shopping Intl. offers you online FANUC β series Servo drives type FANUC Servo Amplifier Beta SVU (A06B-6093 FANUC SVU 1-4, SVU 1-12, SVU 1-20, SVU 1-40, SVU 1-80) for FANUC Beta Servo Motor. Fanuc simple axis drive. Browse all the references of the FANUC A06B-6093 check availability, price and conditions of the parts that you would order online. These 2 series of Fanuc Servo drive (Beta SVU) are fitted on FANUC CNC Control Fanuc 15, Fanuc 16, Fanuc 18, Fanuc 20, Fanuc 21. Fanuc β series SERVO is highly reliable and high cost-performance AC servo system.This servo system has performance and functions enough for feed axis of machine tools, Smooth rotation and compact size Servo Motor, βi series is AC Servo System with high cost performance, most suitable for positioning of industrial machines and peripheral equipments of machine tools.
| | |
| --- | --- |
| A06B-6093-H | Fanuc AC Servo Amplifier Beta SVU (FSSB or I/O LINK |
Cnc-Shopping offers FANUC Beta drives for
sale
including sale of
Brand New - Refurbished - Exchange
and
Spares
for Fanuc Drives. For the FANUC Beta Modules that are not in stock, or drives that not required urgently, please contact us and we will try to source your part. (All of the Fanuc servo drives units comes with a
warranty
).

Browse below our references from the FANUC FANUC Beta Servo Units
:
A06B-6093-H101 Servo Unit Beta Series SVU-12

In Stock

Immediate shipment

Starting at €670.00 €670.00

A06B-6093-H102 Servo Unit Beta Series SVU-20

In Stock

Immediate shipment

Starting at €900.00 €900.00

A06B-6093-H103 Fanuc Servo Amplifier Beta SVU 1-40 PWM

In Stock

Shipment within 3 days

Starting at €1,900.00 €1,900.00

A06B-6093-H104 Servo Amplifier Beta SVU 1-80 PWM

Out of stock

Immediate shipment

Starting at €1,600.00 €1,600.00

A06B-6093-H111 Fanuc Servo Amplifier Beta SVU 1-12 FSSB

In Stock

Immediate shipment

Starting at €740.00 €740.00

A06B-6093-H112 Servo Amplifier Beta SVU 1-20 FSSB

In Stock

Immediate shipment

Starting at €960.00 €960.00

A06B-6093-H113 Fanuc Beta Servo amplifier SVU 1-40

In Stock

Immediate shipment

Starting at €1,100.00 €1,100.00

A06B-6093-H114 Servo Amplifier Beta SVU 1-80 FSSB

In Stock

Immediate shipment

Starting at €1,300.00 €1,300.00

A06B-6093-H151 Servo Unit Beta SVU 1-12 I/O Link

In Stock

Immediate shipment

Starting at €990.00 €990.00

A06B-6093-H152 Servo Unit Beta SVU 1-20 I/O Link

In Stock

Immediate shipment

Starting at €1,050.00 €1,050.00