FANUC Servo Drive 6035 6045 6047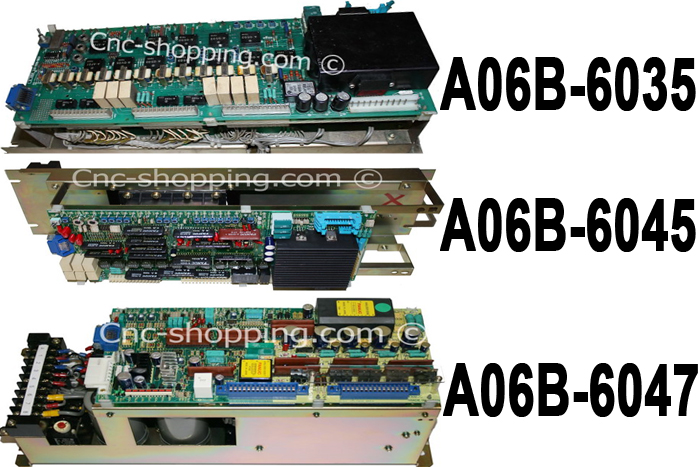 Cnc-shopping offers a wide range of FANUC DC Axis drive Units for sale online. FANUC Velocity Control Unit (V.C.U). These Fanuc Axis drives units includes the Fanuc S series and Fanuc M series (Fanuc 6035, Fanuc 6045, Fanuc 6047. These DC Servo drives units for FANUC DC Servo Motors are fitted on Fanuc System FANUC 3, 5, 6, 10, 11 et FANUC 2000, 3000.
FANUC DC Servo Units references begin as :



A06B-6035-H

DC servo unit N series

A06B-6045-H

DC servo unit N series

A06B-6047-H

DC servo unit M series
Cnc-shopping offers Fanuc DC Drives for Sale including sale of Refubished, used, spares and exchange of Fanuc DC Servo units. For repair of your Fanuc DC Drives, please use our Contact form. (But we advice customers to buy servo drives online and replace their drives for the fatest replacement). For the FANUC DC axis drives that are not in stock, or drives that not required urgently, please contact us and we will try source your part. (All of the Fanuc servo drives units comes with a warranty).
Browse below our references from the FANUC FANUC DC Servo Units :

A06B-6035-H315 DC Axis Drive VCU C104

In Stock

Shipment within 3 days

Starting at €800.00 €800.00

A06B-6035-H316 DC Axis Drive VCU

In Stock

Immediate shipment

A06B-6035-H317 DC Axis Drive VCU

Out of stock

Out of stock

Starting at €900.00 €900.00

A06B-6035-H318 DC Axis Drive VCU

Out of stock

Out of stock

Starting at €800.00 €800.00

A06B-6035-H422 DC Axis Drive VCU

In Stock

Immediate shipment

A06B-6035-H423 Fanuc DC Velocity Control Unit

In Stock

Immediate shipment

Starting at €700.00 €700.00

A06B-6045-H001

Out of stock

Immediate shipment

Starting at €380.00 €380.00

A06B-6045-H002

In Stock

Immediate shipment

Starting at €390.00 €390.00

A06B-6045-H005 Fanuc V.C.U

In Stock

Immediate shipment

Starting at €500.00 €500.00

A06B-6045-H006 Servo VCU Uniit 10-10H

In Stock

Immediate shipment