FANUC I-O units plc modules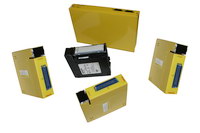 Order online your Fanuc I/O Module, Cnc-shopping is offering you FANUC I-O Modules, usually installed on Fanuc I-O board controller. I-O Modules for Fanuc 11, 12, 15, 16, 18 and latest Fanuc i-series generations. Browse FANUC Input Ouput Modules that we have in stock below. All of our I-O PLC Modules are under warranty.


| | |
| --- | --- |
| - FANUC I/O Unit | - FANUC Digital output module |
| - FANUC Analog input module | - FANUC Basic unit |
| - FANUC Digital input module | - FANUC Interface module |
| - FANUC Analog output module | - FANUC Slave module, High speed counter module, Brake module |
A Fanuc programmable logic controller (PLC) or programmable controller is a digital computer used for automation of electromechanical processes, such as control of machinery on factory assembly lines, amusement rides, or lighting fixtures. PLCs are used in many industries and machines. Unlike general-purpose computers, the PLC is designed for multiple inputs and output arrangements, extended temperature ranges, immunity to electrical noise, and resistance to vibration and impact. Programs to control machine operation are typically stored in battery-backed or non-volatile memory. A PLC is an example of a real time system since output results must be produced in response to input conditions within a bounded time, otherwise unintended operation will result.
Fanuc PLC Modules
:
A02B-0236-C211 Fanuc IOU1 A20B-2100-0390

In Stock

Immediate shipment

Starting at €220.00 €220.00

A02B-0236-C212 Fanuc A20B-2002-0860

In Stock

Immediate shipment

A02B-0259-C220 A20B-2003-0320 FANUC Operator panel interface

In Stock

Immediate shipment

Starting at €290.00 €290.00

A02B-0259-K840 Flat cable for I/O Module FSSB series 0236

In Stock

Available in 5 to 8 days

Starting at €15.00 €15.00

A02B-0303-C205 Fanuc SDUI Position Detector I/F Unit FSSB

Out of stock

Immediate shipment

Starting at €200.00 €200.00

A03B-0801-C004 A20B-1001-0020 Fanuc I/O Base unit

In Stock

Immediate shipment

Starting at €140.00 €140.00

A03B-0801-C006 I/O Base unit

In Stock

Shipment within 3 days

Starting at €250.00 €250.00

A03B-0801-C009 A20B-1001-0030 Fanuc I/O Base Unit

In Stock

Immediate shipment

Starting at €50.00 €50.00

A03B-0801-C013 A20B-1001-0030 Fanuc I/O Base unit

In Stock

Immediate shipment

Starting at €300.00 €300.00

A03B-0801-C051 Fanuc PT01A Positioning Module

In Stock

Immediate shipment

Starting at €350.00 €350.00